About Heidelberg Village
Heidelberg Village is attractive to active seniors who wish to downsize and enjoy comfort and peace of mind. It is attractive because seniors can live independently in an adult lifestyle free from concerns about maintenance and security. One of the unequalled assets of the Village is the community spirit of its friendly and like-minded residents.
The Village boasts 99 units consisting of spacious two-bedroom and convenient one-bedroom apartments thoughtfully designed to meet the needs of seniors, each unit includes 6 appliances.
The lobby of the main Village entrance features a fireplace and sitting area, an imposing chandelier, mural-size paintings and a well stocked library. The gracious foyer is an impressive precursor to the interior decor of the rest of the building.
The building's exterior architectural design is vaguely reminiscent of a Bavarian castle. It forms the backdrop to an exterior courtyard whose focus is a waterfall and pond surrounded by a professionally designed garden of flowers, shrubs, trees and a variety of other fauna mostly maintained by volunteers. A gazebo has been built beside the pond for residents to sit in and enjoy in the summer.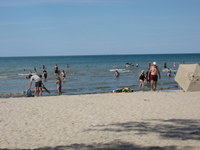 The overall impression of the Village is of a unique and distinctive style. Village residents are proud to call it "home".
The biggest asset of Heidelberg Village is its location. It is situated in the Garden City of St. Catharines, in the wine region of the beautiful Niagara Peninsula. The Village is nestled in a quiet residential neighbourhood and is on a major city bus route, close to shopping and restaurants, Port Dalhousie, the Henley Regatta, medical clinics, and within easy recreational walking distance to Lake Ontario. Moreover, it is only a few minutes drive to picturesque Niagara-on-the-Lake, the City of Niagara Falls, and close to airports in Hamilton, Toronto and Buffalo.
Another important aspect of the Village is the affordability of its suites. The Village is a not-for-profit operation and the prices of units are kept at a reasonable level. It was built by the Heidelberg Social Club, a non-profit community organization that fosters German-Canadian culture. However; residency in the Heidelberg Village is open to all seniors (age 55 and over) regardless of cultural background.
Purchase of a unit is accomplished in a life lease arrangement whereby individuals purchase the right to occupy the dwelling unit for life, or until not capable of living there. The relationship between the purchaser and the "sponsor" or owner of the Village (i.e. the Heidelberg Social Club) is detailed in a Life Lease Agreement. The purchaser/resident has exclusive use of the suite, and shared use of all common areas and facilities. Easy monthly payments cover ongoing management, maintenance and operating expenses.